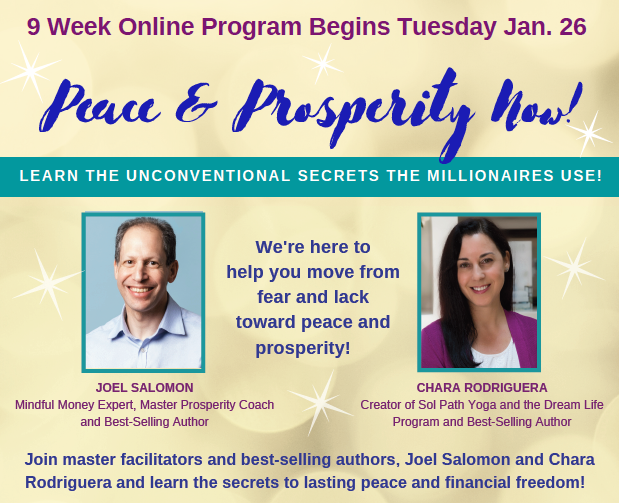 Webinar: Peace and Prosperity Now!
Join Master Prosperity Coach, Mindful Money Expert, and Best Selling Author, Joel Salomon, and creator of Sol Path Yoga and Dream Life Programs, Chara Rodriguera for this empowering webinar that will elevate your mindset and illuminate your path to financial prosperity!
The first session will be free, signup now.
For more details about the event, click here.
Weekly every Tuesday, starting February 2nd, 7-8pm EST / 4-5pm PST 
Webinar Description
Each Peace & Prosperity Now class will begin with a special series of gentle relaxation exercises and guided meditation facilitated by Chara. The combination of these techniques will help you release stress and prepare you to fully receive the master prosperity coaching with Joel.
Your Program Includes:
Master Prosperity and Financial Coaching with Joel.
Unconventional Secrets the Millionaires use from Joel's best-selling book.
Relaxation and Mind Mastery Exercises with Chara.
Guided Meditation to reprogram your mind for peace and prosperity.
Fun Action Steps that cultivate peace, joy, and financial freedom.
A 1:1 Master Prosperity Coaching Session with Joel.
Lifetime Membership to Joel's Financial Freedom Facebook group.
Special Bonuses: Joel's and Chara's best-selling books, Guided Peace & Prosperity Meditation, Follow-up Class!
The first class on Tuesday, January 26th is FREE. The schedule of topics for each week are as follows:
PEACE & PROSPERITY NOW!
Class #1 | Date 1/26:   Own Your BS…Belief Systems!
Learn how your Beliefs affect your income and how to create a mindset of extraordinary wealth and prosperity!
Class #2 | Date 2/2:   Your Inner GPS…Guiding Prosperity System!
Learn how Joel used his Inner GPS while managing $700 million to make even more money and how YOU can too!
Class #3 | Date 2/9:   What You Appreciate…Appreciates!
Learn why Gratitude may be THE quickest way to financial freedom and how you can begin now!
Class #4 | Date 2/16:     Can Happiness Buy You Money?
Learn how Happy Habits lead to more money and a blessed life!
Class #5 | Date 2/23:   Visualize and Monetize!
Learn the 6 Step Process to Manifesting financial freedom and the life of your dreams!
Class #6 | Date 3/2:   The Law of Generous Giving!
Learn how Giving activates an energetic law that quickly helps you go from scarcity to prosperity!
Class #7 | Date 3/9:   Budget Like a Millionaire!
Did you know 80% of Millionaires budget their money? Learn a great new GAME to change this chore into a fun process and watch the positive transformation begin!
Class #8 | Date 3/16:     Invest Your Money Wisely!
Erase your Limiting Beliefs about "Do It Yourself" Investing and become financially free faster!
Class #9 | Date 3/23    Your Unique Path to Peace & Prosperity!
The best way to Peace & Prosperity is Your Way. Learn how to adapt the Money Rules Millions Use to align with your authentic vision for success!
What an extraordinary experience being part of the Peace and Prosperity Now program. Chara's portion of the program focused on the spiritual nature of abundance which for me is the essence of money.  Her point of view was practical as well as spiritual.  Her meditations were impactful and lasting from week to week. Her meditations were brilliant which prepared me within the hour to be tutored and trained by Joel Salomon.
Whether you are in the financial world or not, you can't help but learn from Joel.  An extra bonus was Joel's knowledge of bringing spiritual disciplines to the world of finance.  The program is like nothing you've ever experienced. I highly recommend it.
Joel and Chara presented their Peace & Prosperity program with a balanced approach of information and mindset. Money is a subject many avoid, and the environment within the program made it easy, and even fun! Questions and concerns were met with compassion and non-judgment.
I highly recommend Peace & Prosperity to gain clarity and release the attachment to struggle with money
I feel Joel and Chara really took the time to explain what it is that you should look for in terms of feelings. Taking the course helps you prevent double guessing yourself and helps you move in the direction of what you envision to be a reality to help you achieve your goals in life…Maybe make the course longer because once the course was over, I started missing Joel and Chara's remarkable energy.
The program provides valuable tools that most of us don't know exist. By taking the course, I think anyone can shift their mindset to thoughts of prosperity!
I have to tell you that you have both impacted my life.  I'm starting to shift my mindset and it's all due to this class and the feeling of peace and prosperity you both bring into my life each week. I'm sorry to see the class come to an end but I'm happy to know that you will make a difference in someone else's life.
Thank you for all the great inspiration you have given us and for giving us hope that we will get through these tough times. Thank you for spreading peace and prosperity in our lives and in our hearts.