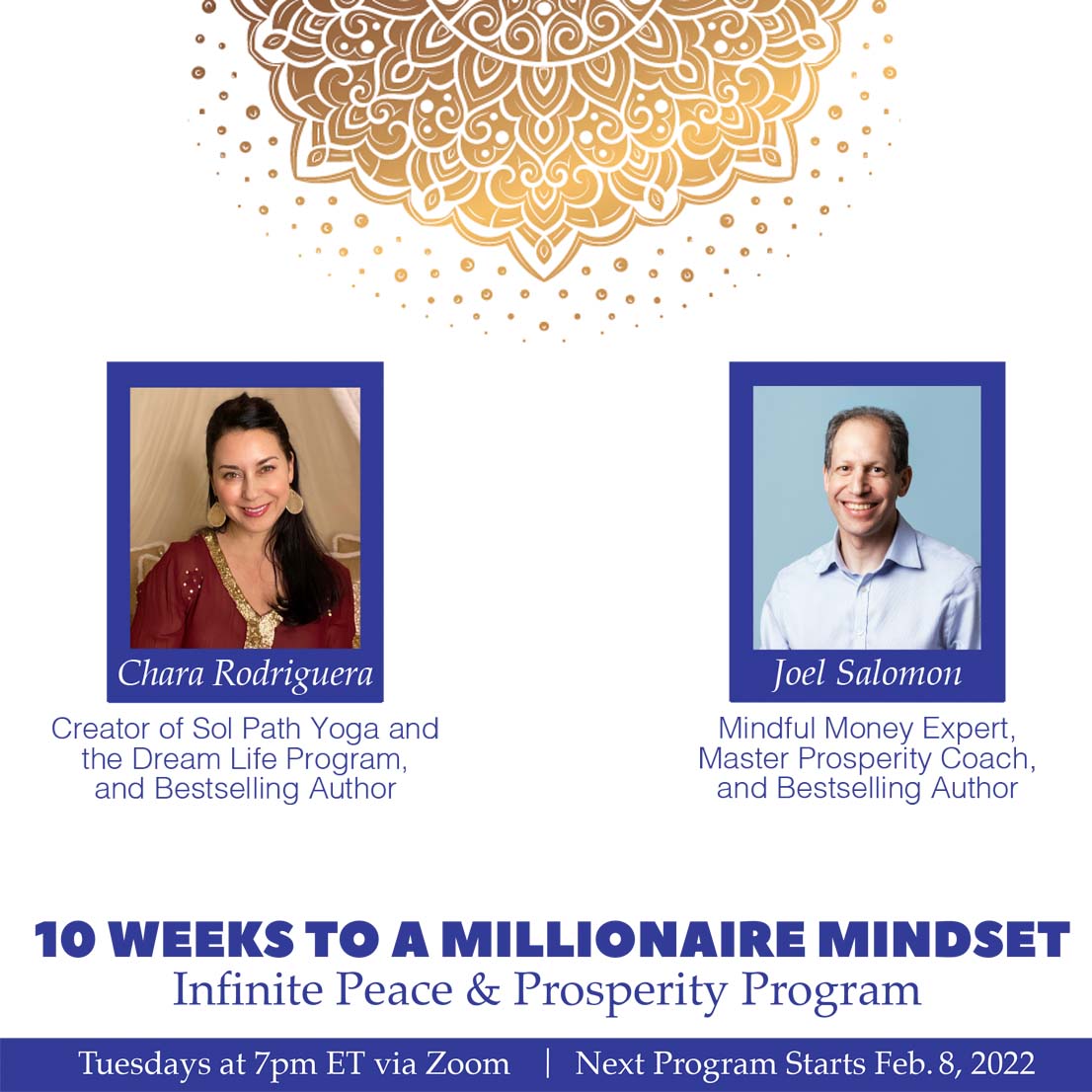 10 Weeks to
a Millionaire
Mindset
Infinite Peace and Prosperity Program
Sure, you'd like to be a millionaire, but do you think and act like one? 
The Infinite Peace and Prosperity Program is the first of its kind because it takes a holistic approach to creating and maintaining wealth. Learn how to connect with the true source of all abundance and dissolve what's blocking you from achieving your financial dreams. It all starts with mindset! Receive the tools, support and inspiration to help you shift from fear and lack to a millionaire mindset of infinite peace and prosperity.
For more details about the program, click here.
Tuesdays, Feb 8 – Apr 12, 2022. 7pm EST.
Price: $888
Master facilitators and bestselling authors Joel Salomon, Finance Expert & Master Prosperity Coach, and Chara Rodriguera, Creator of Sol Path Yoga, combine their unique expertise to help you cultivate a peaceful heart, an abundant mind and the financial habits of millionaires. By combining these winning tools with traditional financial elements, you'll be positioned for a life of INFINITE PEACE AND PROSPERITY!
In This Course You Will:
Learn the nine unconventional money rules millionaires use from Joel's bestselling book.

Identify limiting beliefs and align with wealth on all levels

Discover Chara's #1 tool to create instant calm and connection to abundance.

Get support and feel empowered by two caring, expert facilitators that are committed to your success.

Receive master prosperity and financial coaching with Joel.
Cultivate a peaceful, prosperous mindset with Chara's life-changing relaxation techniques and guided meditations.
Receive insights, tips and tools from expert guest teachers.
Have fun and take simple action steps toward your dream life.
PLUS Get These Exclusive Bonuses! 
Lifetime membership to Joel's private VIP Financial Freedom Facebook group.

A one-to-one Master Prosperity Coaching session with Joel.

Copies of Joel and Chara's bestselling books.

Three Sol Path Yoga classes with Chara, ideal for all levels.

Follow up class to refresh and review.
Recordings of all classes, if you can't make it live or want to re-listen. Infinite Peace and Prosperity Guided Meditation.
25% off a life-changing Infinite Peace and Prosperity Retreat.
INFINITE PEACE AND PROSPERITY AWAIT! 
I recommend The 9 Money Rules Millionaires Use Course because it's a way to empower you around life affirming ways to be in the world.  Joel and Chara will meet you where you are, then transform limiting beliefs that you may not even know you hold.  Each week builds on the next, giving time to absorb your thoughts and feelings along with using tools to assist in opening yourself to a new way of life.
I found the course was more than money.  I began to see all the ways my life is full of love, joy, health, friendship and much more. I highly recommend you take the steps to make room for an hour a week for some amazing transformation.
I recommend The 9 Money Rules Millionaires Use Course because it makes the strategies outlined in the book [The 9 Money Rules Millionaires Use] really come alive and motivates you to put them into action right away. Chara and Joel set up the conditions to achieve financial freedom with inspiration and support you just don't find anywhere else. Being in this course means you get to share the journey with others which strengthens the money mindset, allowing all of us to prosper and raise the vibration of what we are able to attract. Saying, "yes" to this course means also saying yes to your financial freedom!
"Joel and Chara were very healing throughout this course. I appreciate how they first teach you how to heal your mindset around money and yourself. They then empower you to dream your dreams, restore your courage within yourself, raise your vibration, and fulfill your potential of becoming peaceful, prosperous, and abundant. Thank you for guiding me into creating a new life for myself and for giving me the power to know I always could."
This class is great, an eye-opener in many respects.  It will help you discover your financial freedom number, and it will teach you the mindset and the behavior you need to achieve it.  Even if you are just curious, take it, you will be surprised. This class can change the course of your life.
This class facilitated by Joel and Chara offers a perfect balance of creating a peaceful, calm, open mindset in preparation for welcoming the knowledge and belief of prosperity and abundance. I absolutely recommend it!
I recommend this program because it does exactly what it says. Chara sets a comforting mode and Joel shares great money tools. What a powerful team!
I highly recommend Chara and Joel's program! With Chara's gift of stress relieving exercises and mind mastery techniques you will feel calm, clear and ready to create and receive wealth and abundance.
Joel's financial wisdom will give you the courage and confidence to believe in, and take steps towards financial freedom. You will receive the information and inspiration to understand creating wealth from a more loving perspective, as opposed to the fear based mentality we tend to have surrounding money.
This Program gave me the confidence to look more in depth into my finances and transform my beliefs about what's possible for me. Do not underestimate this power. From a student, it works! All you need to do is follow Joel and Chara's guidance and listen to your heart. This will transform not only money, but your life from the inside out!
Mind Blown! I always associated making money with working my butt off and tons of stress. This program helped me to start thinking about money in a whole new way. When Chara guided us to relax and showed us how to be in a receiving vibration, tears started coming to my eyes. I never realized that my beliefs and habits are just as important as learning about finances. As a prosperity coach, Joel, is the perfect balance because he's a money expert and also a mindset expert. Since I've taken this program I'm actually excited about my finances! Now that I'm taking positive steps toward my financial freedom and doing the practices we learned, I'm feeling more abundant with what I already have and I'm seeing that money and wealth is coming much more easily. The name of this program says it all! I highly recommend this program to anyone who's ready for more Peace and Prosperity! 
What an extraordinary experience being part of this program. It was and is an extremely effective program that addresses one's finances and is bonused by Chara. The Chara portion of the program focused on the spiritual nature I heard as abundance which for me is the essence of money.  Her point of view was practical as well as spiritual.  Her meditations were impactful and lasting from week to week. Her meditations were/are brilliant which prepared me within the hour to be tutored and trained by Joel Salomon.  Whether you are in the financial world or not, you can't help but learn from Joel.  An extra bonus was Joel's knowledge of bringing spiritual disciplines to the world of finance.  The program is like nothing you've ever experienced. I highly recommend it. As I said - BRILLIANT!
This program provides valuable tools that most of us aren't aware exist. By taking the course I feel anyone can learn to shift their mindset into thoughts of prosperity.
 I feel Joel and Chara really took the time to explain what it is that you should look for in terms of feelings. Taking the course helps you prevent double guessing yourself and helps you move in the direction of what you in-vision to be a reality to help you achieve your goals in life.
Joel and Chara presented their program with a balanced approach of information and mindset. Money is a subject many avoid, and the environment within the program made it easy, and even fun! Questions and concerns were met with compassion and non-judgement. I highly recommend this program to gain clarity and release the attachment to struggle with money.
This was a lot of fun. I love the meditations to begin and set the tone for each class we had together. Attending this course made it easier to be open to shift the beliefs and receive money.
I recommend The 9 Money Rules Millionaires Use Course because between them, Joel & Chara create a magical learning & growth experience marrying the spiritual with the practical. I love the meditations and energy-raising practices that Chara provides and Joel's many practical and inspired principles & practices. I also loved the community - the class was educational, fun and inspiring.
I recommend The 9 Money Rules Millionaires Use Course because Joel and Chara make a great team and are great at supporting the class team. I loved how Chara would start us off with a reset and ready to receive Joel's lessons for the day. I loved the stories they shared – very empowering and encouraging. Joel has useful practical tips to share and both are great cheerleaders for all successes gained throughout the course. I enjoyed that the information was a lot about using a better mindset and having a positive relationship with money.