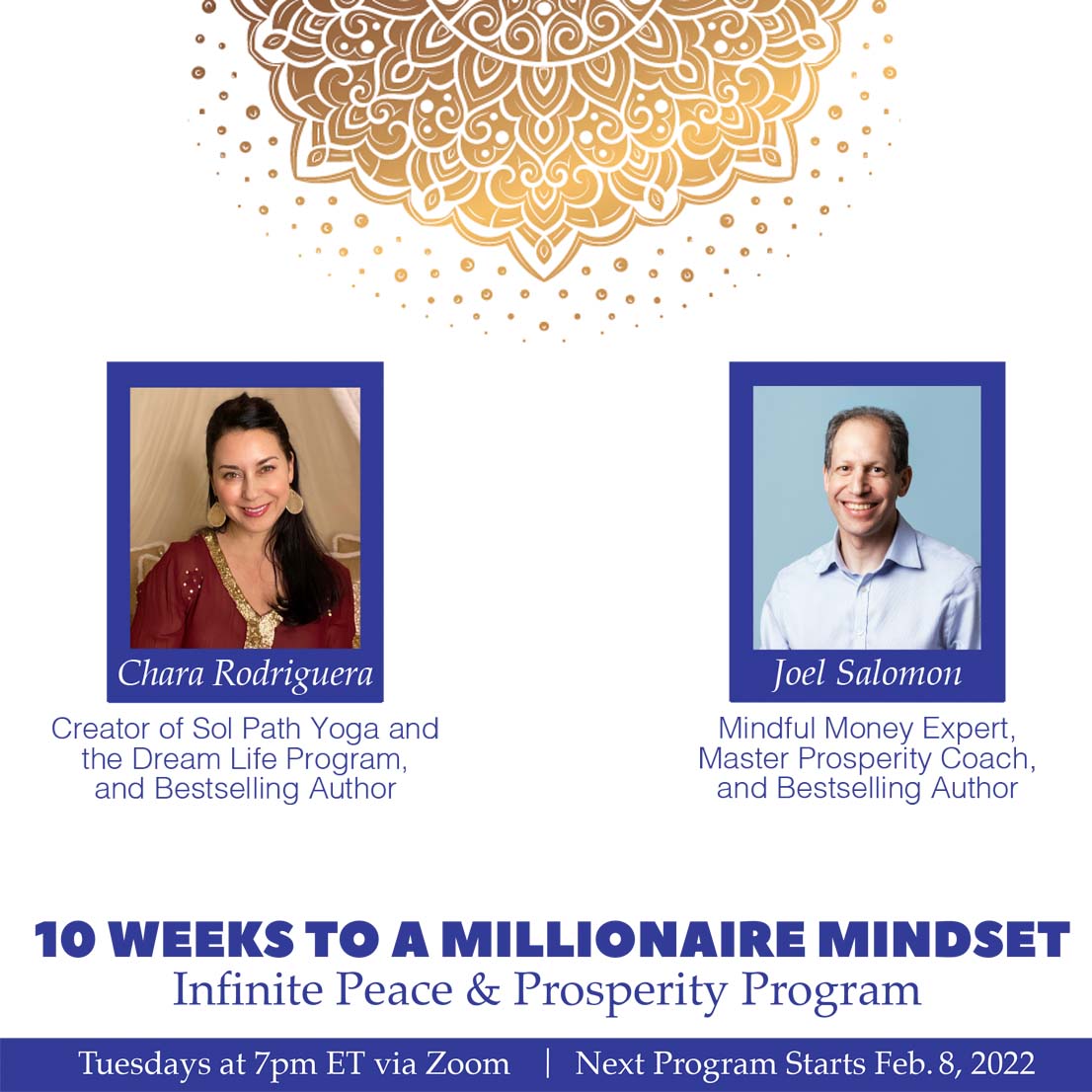 10 Weeks to
a Millionaire
Mindset
Infinite Peace and Prosperity Program
Sure, you'd like to be a millionaire, but do you think and act like one? 
The Infinite Peace and Prosperity Program is the first of its kind because it takes a holistic approach to creating and maintaining wealth. Learn how to connect with the true source of all abundance and dissolve what's blocking you from achieving your financial dreams. It all starts with mindset! Receive the tools, support and inspiration to help you shift from fear and lack to a millionaire mindset of infinite peace and prosperity.
For more details about the program, click here.
Tuesdays, Feb 8 – Apr 12, 2022. 7pm EST.
Price: $888
Master facilitators and bestselling authors Joel Salomon, Finance Expert & Master Prosperity Coach, and Chara Rodriguera, Creator of Sol Path Yoga, combine their unique expertise to help you cultivate a peaceful heart, an abundant mind and the financial habits of millionaires. By combining these winning tools with traditional financial elements, you'll be positioned for a life of INFINITE PEACE AND PROSPERITY!
In This Course You Will:
Learn the nine unconventional money rules millionaires use from Joel's bestselling book.

Identify limiting beliefs and align with wealth on all levels

Discover Chara's #1 tool to create instant calm and connection to abundance.

Get support and feel empowered by two caring, expert facilitators that are committed to your success.

Receive master prosperity and financial coaching with Joel.
Cultivate a peaceful, prosperous mindset with Chara's life-changing relaxation techniques and guided meditations.
Receive insights, tips and tools from expert guest teachers.
Have fun and take simple action steps toward your dream life.
PLUS Get These Exclusive Bonuses! 
Lifetime membership to Joel's private VIP Financial Freedom Facebook group.

A one-to-one Master Prosperity Coaching session with Joel.

Copies of Joel and Chara's bestselling books.

Three Sol Path Yoga classes with Chara, ideal for all levels.

Follow up class to refresh and review.
Recordings of all classes, if you can't make it live or want to re-listen. Infinite Peace and Prosperity Guided Meditation.
25% off a life-changing Infinite Peace and Prosperity Retreat.
INFINITE PEACE AND PROSPERITY AWAIT! 
I've thoroughly enjoyed our time coaching together.  When we connected at Infinite Possibilities years ago in Santa Fe, I knew that I wanted to know more about your prosperity coaching work…Fast forward about 6 years to now…So I was excited when you reached out with an offer to connect on your Fast-Track Prosperity Coaching program.  I knew I was in for a treat and still wasn't expecting what has happened in the 3 months that we've been working together.  In that time, I've tripled my monthly revenue and have a solid strategy for outreach to continue to grow my business.  I've gotten more clear on where our money is spent as a family and have had some much needed conversations with my husband and our kids.  Most surprisingly, this abundance work has positively impacted my relationship with my ex-husband where financial matters were a source of stress and anger in the past.  Joel is extremely generous …with a ton of inspiring content that's practical, educational and fun.  There's a ton of support for topics that you wouldn't necessarily expect to see in a money mindset course.  I appreciate his generous encouragement, organized approach to accountability and willingness to brainstorm.  I'd highly recommend his coaching to anyone who knows that they need support in taking action that clears out old limiting beliefs about money that are no longer serving them.  It's just the right about of teaching and action.  The manifesting techniques are fun, approachable and actually work.  Thanks, Joel, for your belief in ME!
I met Joel in a networking group and had one private session with him. During that private session I had such an Epiphany of my own thought process that was holding me back that I realized at that moment I am the multi millionaire I always wanted to be. It was such a profound Epiphany during our conversation that I actually designed a new tattoo after we got off the phone. I put two MMs together for the symbol of multi millionaire and tattooed it on the back of my neck. I also purchased one of Joel's online programs on prosperity. Having a beautiful breakthrough during one conversation I know Joel is the real deal. If you want to have prosperity breakthrough, definitely work with Joel!
I found working with Joel very enlightening. I recently completed a money manifestation session with him. He's insight is excellent. He taught me how to reframe the negative and to keep putting the positive vibes out there. The exercises were helpful. I highly recommend working with Joel. He's a rockstar in his field.
Thank you, Joel, for the vast array of information that you have provided in your membership! I have found the videos to be informative, uplifting, and most of all beneficial to support my financial wealth. The audios are great to listen to while driving and I usually am smiling through them as I listen to your voice. Most of all, it has given me an anchor to remember how important my thoughts are in creating a life that I love!
This course is a delight and I'm honored to be a part of the magic.
I recently joined this group and manifested over $3,600.00 in the first week of becoming a member…I believe the focus will bring more money miracles into your life! Check it out!
I am just so happy about why I joined the membership. I'm glad I did. It came at the right time for me. I've had so many limiting beliefs around money, and I've really been able to detach from the outcome of money being that end goal, and I've struggled a lot…the membership has really helped me to unlearn a lot of those things that I've learned previously and I love the videos. I love that I can watch them on demand. Sometimes I've watched them while I'm washing the dishes. I love the abundance meditation… I listen to that frequently…I love being inside the group and hearing everyone's manifestations and it's so inspiring. So, this group has been just a great, great outlet for me just to help me change a lot of what I've been going through as far as money and the belief systems that I've had in the past.
What I love is [Joel's] generosity of time…It's not just information, it's inspiration. [Joel] shares [his] stories and how [he's] practicing…having the group to check in with and share my money manifestations with and if there's something that inspired me about abundance a place that I can share it and hearing everyone's stories is just a reminder that it can just come from anywhere at any time. And the one thing that I want to point out, that for me is different than perhaps some other coaches or groups like this, is [Joel's] philosophy about everything with grace and ease. Because in this situation…I've had so much negative and limiting programming. Everything has felt like effort…when it's come to money…I always feel encouraged. And [Joel's] number one mantra that you believe in us. I feel that and I feel that Joel has believed in me more than I believed in myself on this journey. But now I am starting to believe in everything that he sees in me and knows that I'm capable of and I'm like stepping into it by baby steps with grace and ease…And I am experiencing all the shifts that he talks about. So then having this group makes sure that I cannot get far off track…and as soon as I see one of those posts, I'm right back on. So, I think it's one of the greatest decisions I ever made to join this [membership]…thank you, Joel.
I joined the membership a month ago and I… listen to the affirmations every day morning and evening I've recorded some of the affirmations in my own voice so not only do I hear Joel's voice with the "you" pronoun, but I also hear my own voice with the "I" pronoun so I take it in in different ways…and a lot of what I recorded was from Joel's book, "The 9 Money Rules Millionaires Use," a great book. And, so, over this past month, money has come to me in ways that I hadn't expected, just out of the blue, not like the month before or the month before that, but this month, it's been amazing. And, last night, I wrote in my journal, I feel like there's something waiting to happen. It's big and wonderful. I just keep showing up. I keep doing the work consciously and unconsciously…I keep honing my skills, loving to learn and I'm making the effort to trust…even though the future seems so nebulous for me right now. Money and opportunities come to me in expected and unexpected ways. I accept and welcome them, and I deserve it. So, thank you, Joel. There's been a huge mind shift for me already over the past number of weeks.
Joel's Money Miracles Membership was extremely well designed and delivered! In the membership, he speaks a lot about having the right financial mindset in your life. He has made me realize that there was room for improvement in my financial mindset and it is something I am working on throughout the membership. The activities, such as putting a $100 bill very visible in your wallet or pretending to spend money, are a lot of fun! As for Joel himself, he always says "I believe in you" which always makes me smile!!! He is a great guy and very inspirational!!!